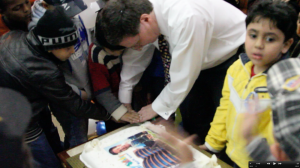 With a back pack on his shoulders, he moves around the place with ease. Obviously not a guest, his face is very familiar, but he is not a CCHE staff either. He is much more than that: A close friend, a loyal partner and a staunch supporter to the Children's Cancer Hospital Egypt, Dr. Mark Kieran, Director Pediatric Neuro-Oncology, Harvard University, Dana- Farber Cancer Institute and Children's Hospital Boston is always ready to free himself and come whenever solicited. He never missed out on a chance of being among his 57357 family during milestones and critical turning points. More than eight years ago, his encounter with Dr. Sherif Abouelnaga, guided him to walk the extra mile with him, and since then he embarked on this extraordinary journey of establishing and developing the largest children's Cancer Hospital in the world located in Cairo, Egypt.
Back then, he had immediately seen the differences albeit the same goals which related him to the man behind Hospital 57357.
Since then, Dr. Kieran multiplies his visits to the Hospital:
In 2008, along with Dr .Peter Black, renowned Dana Farber Cancer Institute's neuro surgeon, Dr. Kieran conducted the first intensive training sessions for the CCHE physicians and staff about brain tumors, current and future treatment strategies, and the establishment of a multi-disciplinary team in brain tumors.
Dr. Kieran's third visit at the start of 2009 aimed to assess the functioning of the brain tumor group, but more importantly to put in place standard treatment protocols that provide optimal therapy for each type of brain tumors. During this visit, he also pursued to strengthen cooperation between Harvard University and hospital 57357 in the areas of medical research and Telemedicine as well as setting out an action plan for the Molecular biology and Genetics program.
In mid 2009, he participates in the 57357 International Pediatric Oncology symposium (July 5-11, 2009) which pursued to bring experts from around the world in all disease types, to establish specialized work teams for each disease applying the latest therapies.
In June 2010, Dr. Kieran is part of a group of Dana Farber and Children's Hospital Boston physicians who are on a special mission to 57357 aiming to help pushing research work ahead
On the occasion of 57357's five years of operation, Dr. Kieran who played an important role in the establishment of the joint 57357/ Dana Farber Children's Hospital Cancer Center (DFCHCC) pediatric oncology fellowship program, is of course present   to fine- tune and finalize the launching of the program. The fellowship program is to enable physicians in Egypt and the surrounding region who are interested in Pediatric oncology to receive the same kind of complex training and education in this specialization as if their counterparts in the U.S.
As a board member of 5757's affiliate non-profit in the U.S., Egypt Cancer Network, Dr. Kieran will again generously donate of his time to be the best Ambassador and advocate for the Children's Cancer Hospital Egypt in his country.
Dr. Kieran's touching enthusiasm and great support to 57357 has indeed earned him the highest esteem and heartfelt gratitude from everyone at 57357.