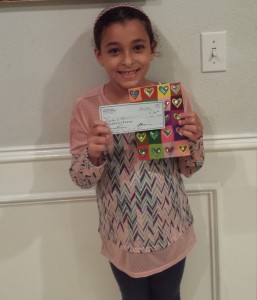 Despite living in the U.S., Lobna the eight year old Egyptian American is familiar with a certain hospital in Egypt which treats children with cancer for free. At home, she has seen it on TV ads.  Her parents  often talked about it as they are both members of the Egypt Cancer Network, a U.S. based tax deductible non-profit which supports this hospital. So often did they mention how up to date the Hospital is and how well it is able to take care of the children with cancer in Egypt and to cure a large number of them just as in the U.S. She listened carefully as they frequently praised the charitable action of the Hospital in providing the best treatment and care for all its patients completely for free. She learned that this Hospital was entirely built and is running thanks to the on-going donations of millions of Egyptians and friends of the Hospital worldwide.
But lately, Lobna noticed that her parents were particularly involved with an urgent matter related to this hospital: although the Hospital is the largest in the world in terms of capacity, the demand for its quality services has increased so much that it  is for the time being forced to turn away five out of seven children hoping to be admitted. She also learned that the Hospital is presently needing a lot of support to build more premises and to add more beds so as to be able to accept more patients.
It is now clear in Lobna's head that just as her mom and dad are finding ways to support the Hospital in Egypt, she too has to do something about it. A golden opportunity presents itself to her: her birthday is coming up soon! Lobna is going to ask all her friends to turn her birthday gifts into donations to the Hospital. And this is precisely what she did! The response among her friends was so positive that they too want to imitate her and talk to other friends and families to do the same. Thanks to Lobna, a 57357 solidarity chain is now being formed in her neighborhood. Lobna is probably not aware that her selfless act of generosity towards Egypt's children with cancer has a ripple effect extending till the end of the Earth!